Audi CAN Gateway Battery Coding (8T/8K/8R+)
From Ross-Tech Wiki

General Information: Most 2009+ Audi A4 and newer models do NOT use a separate 61-Battery Manager. In these cases battery management is a slave (subsystem) under the 19-CAN-Gateway control module. This page covers those 8T/8K/8R and newer models using a CAN Protocol 19-CAN-Gateway control module.

If the vehicle in question uses a diagnostic capable 61-Battery Regulation controller this page should apply instead:
---
Long Adaptation
Installation of a new battery requires the use of the [Long Adaptation-0A] function under 19-CAN-Gateway control module. Follow the onscreen instructions to enter the Part Number, Vendor, and Serial Number all as one long new value.
Prerequisites:

New Audi Battery Installed

Aftermarket batteries may NOT have a valid Audi Part Number, Vendor code or Serial number. Ross-Tech cannot offer assistance if the necessary information is missing.

Key On, Engine OFF

[Select]
[19 - CAN-Gateway]
[Long Adaptation-0A]
Channel 004
[Read]
VCDS will populate instructions in the form of a pop-up balloon with the formatting. For example:
Format: NNNNNNNNNNN XXX ZZZZZZZZZZ

N = Battery Part Number (11 Digits)
X = Battery Vendor (3 Digits)
Z = Battery Serial Number (10 Digits)

[Add to Log] Saving the original value to a log is strongly recommended.
Type the New Battery details into the New value field.

Note, the New value must be 26 (alpha numeric) total characters including the spaces! If in doubt check the saved log for the original battery formatting details.
[Test]
[Save]
Providing the value was accepted by the controller the new battery coding is complete.
[Done, Go Back]
[Close Controller, Go Back - 06]

Note: The 10 digit serial number may be preceded by the Battery Vendor Code, for instance VA0. See examples below:
Click on thumbnail image to enlarge.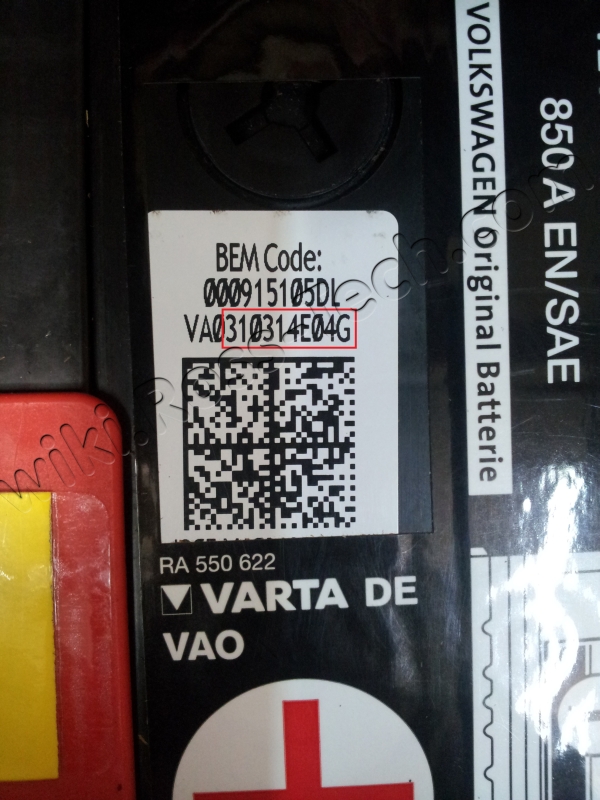 If the code is VA0310314E04G then drop the VA0 and just enter 310314E04G as the Serial Number.
Special Notes
Measuring Block groups 008, 019 and 020 should show Battery information.
Registered users encountering difficulty can contact us via email -or- join and post in our forum. Please include the Auto-Scan, Saved Adaptation Channel 004 Log prior to modifications, the part number, serial number and vendor code located on the original battery and the details located on the brand new battery in addition to the error message details.
tinyurl.com/pzgolq7
Video Link
Battery Coding